Updated 11/13/17: A new report predicts three iPhone sizes, all with Face ID.
It's not enough that the new iPhone X is only a few days old; rumors about next year's iPhone are already starting to fly. We'll keep track of what's been said and what seems fesible in this article so you can keep up with the latest iPhone gossip.
What's the latest
The latest rumor, again from analyst Ming-Chi Kuo at KGI Securities, is that Apple will have three models of iPhone next year. There will be a new phone the same size and design and the iPhone X along with a "Plus" model that features the same design only with a 6.5-inch display and a higher resolution.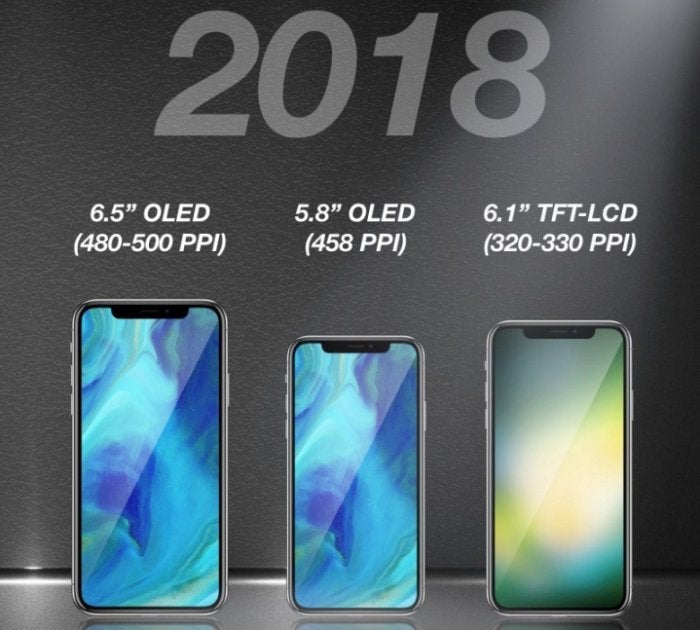 KGI Research
Apple's 2018 lineup could look something like this. But take that LCD model with a gain of salt.
But Apple still needs a new but less expensive model to sell at a lower-than-$1000 price, which Kuo believes will take the shape of a 6.1-inch LCD based phone with the same aspect ratio, but a lower resolution. Kuo believes this phone will be priced between $650 and $750.
The LCD model pictured in KGI's mockup is unlikely to exactly match the final unit. Apple will likely need some bezels on the bottom or top to hold the LCD display control circuitry. But the KGI report does believe the bezels will be much smaller, as Touch ID and the home button will be gone in favor of Face ID and the TrueDepth camera. 
Plausible? A bigger plus-size model makes sense, as does a less expensive, lower-resolution LCD model meant to achieve a lower price. But Apple literally folds the bottom of the OLED display under itself to hide the display controller, a trick they can't pull off with an LCD, so we expect a little more bezel in the LCD version. The bigger unanswered question is whether the LCD version will have a single camera, like the non-plus iPhone models today. 
More frame parts, faster data?
This rumor was reported on November 6, 2017.
KGI Securities analyst Ming-Chi Kuo wrote a research note obtained by other Mac news outlets that details his thoughts on next year's iPhone. Kuo believes that the new phone will use a metal frame that is composed of more parts than the iPhone X, in order to improve data transmission quality. Kuo says that orders Apple has placed with Catcher Technology and Casetek are for two frames, one for a phone like the current iPhone X, and another for an iPhone X-like model with a larger screen.
Plausible? A new frame for better data transmission on next year's phone seems to imply that the current iPhone X isn't performing as well as it could be. But we haven't heard about transmission problems. It could be to support faster transmission speeds (like gigabit LTE) or the newer 600MHz LTE frequency band.