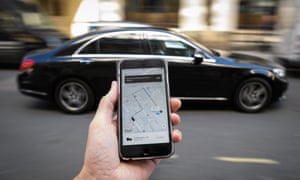 Ride-hailing service's licence expired on 30 September after TfL ruling, but it can continue operating during legal process
Uber launched its appeal on Friday morning against Transport for London's decision not to renew its private hire licence.
The ride-hailing service lodged papers with Westminster magistrates court, starting an appeal process that will allow it to continue operating in the capital.
A hearing is likely to place on 11 December, according to a judicial office spokesman.
Uber's London licence expired on 30 September after TfL ruled it was not a "fit and proper" operator. However, Uber's cars will remain available until the legal process is exhausted – potentially a year or more.
An Uber spokesperson said: "While we have today filed our appeal so that Londoners can continue using our app, we hope to continue having constructive discussions with Transport for London. As our new CEO has said, we are determined to make things right."
Dara Khosrowshahi, Uber's chief executive since September, has apologised for thecompany's past actions and promised to change – a public statement welcomed by the mayor, Sadiq Khan.
The Uber boss came to London in early October for talks with the TfL commissioner that both sides described as "constructive".
TfL had previously indicated that the "conduct and approach" of Uber had been an issue. The licence decision had cited concerns including Uber's approach to reporting criminal offences, how it conducted medical and criminal checks on drivers, and whether software employed to evade regulation was being used in London.
Uber has also been criticised over its treatment of drivers, and is awaiting a separate tribunal ruling over the employment status of what it terms "partners". It has been attempting to overturn a judgment that drivers – about 40,000 of whom work for Uber in London – have rights to paid holiday and the minimum wage.
The debate over Uber's future has divided Londoners, with hundreds of thousands of people signing a petition urging the mayor to revoke the decision. However, polls have indicated a small majority back the decision to stop a firm that Khan said was not "playing by the rules". Uber says 3.5 million people in London have downloaded its app and used it at least once in the past year. Black-cab drivers say Uber is artificially driving down fares to a level that will not be sustainable.